As your number one Turkish translation agency for all public and private sector translation across the UK and world-wide, our team of dedicated translators can handle most kinds of translation from government and defence, legal and medical, financial, and business, to IT and marketing.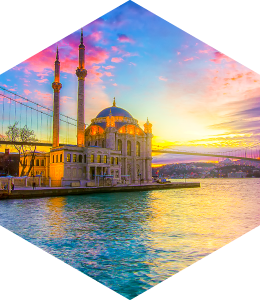 All of our assignments are carried out by qualified experienced translators that are native in the language they translate into. They all specialise in several different areas to give the best possible results for our customers.
Trying to find the right Turkish translation agency in the UK can be a difficult task. This especially rings true when you are expecting a level of professionalism and most of all, assurances. We have been working with many of the United Kingdom's best Turkish translators since 2010. We have a longstanding history of the best possible quality, and all at a competitive rate.
Turkish is one of the world's more influential languages, with some 65 million native speakers, and another 10 million speaking Turkish as a second language. Turkey is a big country, and has more inhabitants than the United Kingdom, Spain, and France.
Turkish Language Facts
Turkish is linguistically similar to Japanese, Korean and Hungarian.
Although Turkish is the official language of the country, more than 30 other languages are spoken regularly, including Arabic, Kurmanji and Zazaki to name a few.
Turkish is spoken natively in 2 continents, but only one country. Turkey is one of the only countries that are located on two different continents. If you visit Istanbul, you'll notice pretty quickly that there's an enormous, 20-mile-long straight that divides the city in half.
Many people assume that it is Istanbul that is the capital of Turkey, but actually, it is the city of Ankara that is the capital. Istanbul just happens to be Turkey's largest city. Ankara has been an important trade centre throughout Turkey's history and has grown to become a significant trading, art and cultural hub.
The United States Bureau of Educational and Cultural affairs recently named Turkish a critical language. It means the United States government thinks Turkish is one of the most important languages on the planet for people to learn.