Are you in need of a Polish translation or interpretation? Translate Hive deliver exceptional services by native Polish language professionals.
Polish is a complicated language however, our experience to not just deliver but guarantee that our translations meet the highest of standard is growing daily. Polish is one of our highest workloads.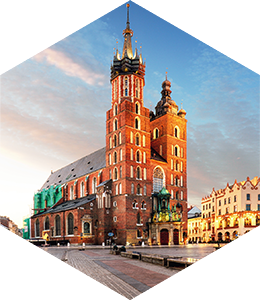 With 55 million Polish speakers across the world and Poland being the 9th largest country in Europe we class ourselves as specialists able to manage any project in any industry.
Sitting alongside Russian in the Slavic language family, Polish can be a challenging medium for business, legal, medical, and financial communication.
Many companies rely on our Polish translation and interpretation services not just our swift turnarounds and accommodating availability but the confidentiality and professionalism of our teams.
Using mother tongue Polish speakers for each client guarantees that every translation is localised. This makes sure they are totally accurate, so that the chances of miscommunication are minimal, something which can be highly detrimental for businesses.
With over 10 years in the industry, 100's of nationally registered language professionals and 1000's of projects a year, you can rest assured we will meet your needs from Polish to English or vice versa.
Our business is adapted to helping your business achieve greater efficiency, with a range of professional language services, verbally or written.
Poland is one of the fastest developing countries in Europe and has a domestic market of around 38 million consumers. Lying at the crossroads of European trade and transport routes, and with an economy that has enjoyed uninterrupted growth since 1992, Poland is a nation rife with business opportunities.
Polish Language Fact
The longest Polish word contains 54 letters.
Dziewięćsetdziewięćdziesięciodziewięcionarodowościowego is the longest Polish word. It roughly stands for "of nine-hundred and ninety-nine nationalities".
Polish vs English
A big difference between Polish and English is the vowel system.
English only uses a modest level of nasalisation but, unlike Polish, it does not use nasality for contrastive purposes.
Polish retains Old Slavic's system of cases for nouns, pronouns, and adjectives.