Translating your documents and your website into German is an essential step if you are looking to expand your business within the German-speaking markets.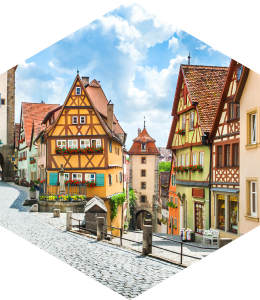 Put your trust in a professional translation agency. Experience always makes the difference. For English-German translation, we specialise in several areas: business translation, marketing translation, web content translation, technical translation, and translation of IT documents. Whatever the subject area.
In order for the right nuance to come through in German translations, we only utilise native German translators. This means that we only use translators for German translation projects who learned the German language as their mother tongue. By using 'real' German translators on your translation project, you can be certain that your texts are translated in the most natural way. In addition, we distinguish between translators on the basis of their specialisation and competency in translating complex texts. The result is a text that is positively received by the German target audience and that will convert better.
Any business planning to go global must conquer the German market. The nation holds Europe's biggest economy by a long shot—it is over one billion US dollars ahead of the United Kingdom, which comes in second place. Germany is renowned for its manufacturing sector and is the world's third largest goods exporters, while also boasting one of the most highly-skilled workforces on the planet.
Unsurprisingly, Germany's geographical and economic position makes it a pivotal country for global businesses, and companies frequently choose it as a European base. Furthermore, the number of non-German companies in the country mean German translation is vital in the business world.
German Language Facts
Regenbogenfamilie means Rainbow Family in English but Same-Sex Parents in German.
The longest German word is: Rindfleischetikettierungsüberwachungsaufgabenübertragungsgesetz, which refers to beef labelling regulations and delegation of supervision law.
All German nouns are capitalised. Names, proper nouns, common nouns, etc. That's one of the qualities that gives German texts their distinct appearance.